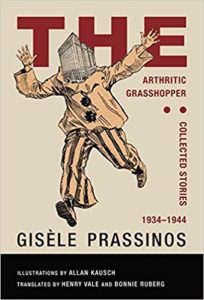 It's been ten (ten!) years in the making, but The Arthritic Grasshopper: Collected Stories 1934-1944 by Gisèle Prassinos is finally out from Wakefield Press.
I co-translated the volume and wrote the introduction, which is titled "Gisèle Prassinos: Where Innocence Unleashes Its Ferocity and Its Monsters." (My sincere thanks to Wakefield, who found a second translator to help me out when dissertation-writing and job-hunting was eating up my time back in 2014-2015.)
I've been in love with Prassinos' surrealist short stories since I was an undergraduate. I highly recommend her writing for anyone who likes their literature weird, dark, and feminist in a way that is less about raising women up and more about tearing the existing, gendered world of power and logic to shreds. Her work is both childlike and fierce.
I had the opportunity to get to know Prassinos in the years between 2007 and 2010, when I visited her at her retirement home in Paris. Sadly, she died in 2015. I miss her and think about her often, but I'd like to believe that she would be proud to see this volume — the first book-length translation of her short stories from French into English — out in the world.
If you're in the Los Angeles area, I'll be taking part in a book reading at Poetic Research Bureau on Saturday, June 17, 2017. Come hear stories from The Arthritic Grasshopper and more recent releases from Wakefield Press!