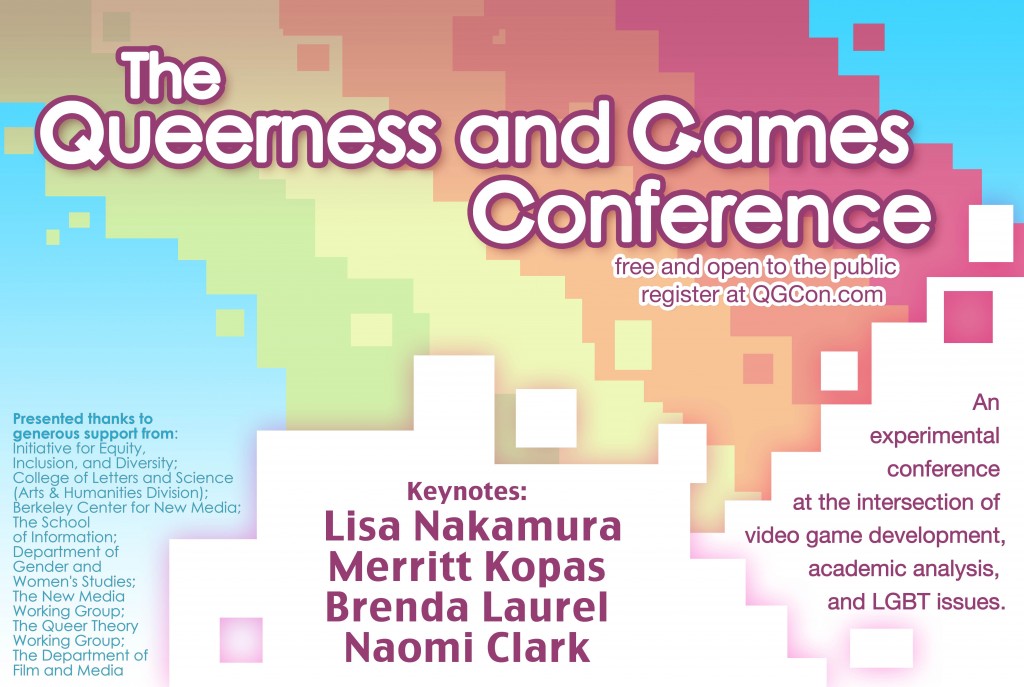 After an amazing event last October, the Queerness and Games Conference (QGCon) is back for 2014. QGCon runs from the evening of Friday, October 24 to the evening of Sunday, October 26. Registration is free and open to the public, and all sessions will take place in UC Berkeley's beautiful South Hall. I couldn't be more excited about this year's line-up of speakers, talks, workshops, and games. The wonderful undergraduates from the Queerness and Games Design Workshop that I've been co-running over the last few months will be presenting as well, and I'm already very proud of what they've accomplished.
This year our keynote speakers and their talk titles are:
- Naomi Clark & Merritt Kopas, "Queerness and Beyond: Rethinking Human-Game Relations"
- Brenda Laurel, "Enabling Realities"
- Lisa Nakamura, "Racism, Sexism, and Social Justice Warriors in Video Games Culture"
Feel free to join us in Berkeley for as much or as little of the conference as you like. Thank you in advance to our generous volunteers and sponsors, without whom this unique opportunity for collaboration and queer visibility would not be possible. See you at QGCon 2014!