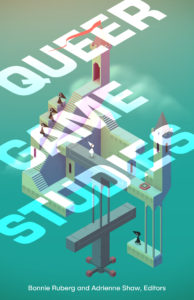 Queer Games Studies, the edited volume about LGBTQ issues and video games that Adrienne Shaw and I have been working on since 2013, is now almost here! The book will be out this March, 2017 from University of Minnesota Press.
In this "landmark anthology," we bring together a wide range of perspectives from scholars, social commentators, and game-makers to open up dialogues around the relationship between queerness, games, and play. This is an exciting new area of research for game studies and queer studies alike (to learn more, check out Queer Game Studies 101), and we're hoping that our book will help bring the discussion of LGBTQ issues and video games to new readers and new classrooms.
Queer Game Studies features work by:
Leigh Alexander, Gregory Bagnall, Hanna Brady, Mattie Brice, Derek Burrill, Edmond Chang, Naomi Clark, Katherine Cross, Aubrey Gabel, Christopher Goetz, Jack Halberstam, Todd Harper, Chelsea Howe, Larissa Hjorth, Jesper Juul, merritt kopas, Colleen Macklin, Amanda Phillips, Gabriela Richard, Toni Rocca, Bonnie Ruberg, Adrienne Shaw, Sarah Schoemann, Kathryn Bond Stockton, Zoya Street, Peter Wonica, Robert Yang, and Jordan Youngblood
Check it out and spread the word. And if you're planning to attend the 2017 Queerness and Games Conference (4/1 & 4/2 at USC in LA), stop by our book release party!