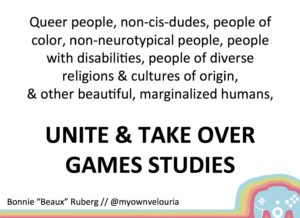 Thanks very much to my co-panelists Edmond Chang, Evan Lauteria, and Timothy Welsh for a wonderful round table at the 2017 Popular Culture Association & American Culture Association Conference in San Diego this weekend!
The session was titled "New Voices in Game Studies," and it was a lovely opportunity to share some of our recent work with the PCA/ACA game studies community — and to think ahead to our visions and hopes for the future of game studies.
The slide I've included here pretty much sums up what I want to see happen, and what I think really is ALREADY happening when it comes to "new voices in game studies." This field has long wrestled with issues of exclusion and marginalization, but I believe that we are seeing a serious sea change. Game studies is moving toward social justice, identity, and "diversity," and a whole range of voices are beginning to be heard alongside those folks who hold established, privileged positions in the field.
And so… Queer people, non-cis-dudes, people of color, non-neurotypical people, people with disabilities, people of diverse religions and cultures of origin, and other beautiful, marginalized humans, UNITE & TAKE OVER GAME STUDIES.
<3 the revolution <3