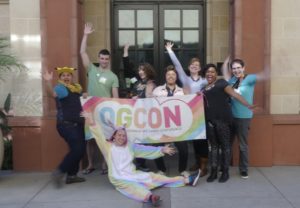 The 4th annual Queerness and Games Conference (QGCon) took place in Los Angeles this weekend, and I'm very happy to say that it was a huge success. QGCon 2017 was hosted by my very own Interactive Media and Games Division here at USC, co-sponsored by a number of other wonderful groups on campus, and made possible by my outstanding cohort of co-organizers.
Thank you, thank you, THANK YOU to everyone who gave talks, presented games, and volunteered. This event is my warm, happy heart. It's so amazing to see queer folks come together to explore and celebrate video games.
Photos and videos from QGCon 2017 are coming soon, so stay tuned. We had a packed weekend of amazing speakers, arcade games, and presentations, so definitely check those materials out when they're ready. You can also read about the event in great write-ups like ones for The Observer and Soule.
Psst, if you're interested in helping out with QGCon 2018, or you want to bring a QGCon event (what we call "QGCon Locals") to your town, we want to hear from you! Here's how to get in touch.