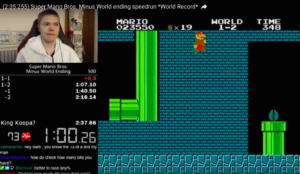 Back in March, I had the wonderful opportunity to give an invited guest talk as part of the Art Dean's Lecture Series at UC Santa Cruz in conjunction with "Video Games as Visual Culture," a class developed and taught by the fabulous Soraya Murray. The guest speaker lineup for the course was amazing, including my friends and colleagues TreaAndrea Russworm, Aaron Trammell, Alenda Chang, Matt Payne, and more.
The talk that I gave was called "Speedruns, Slow Strolls, and the Politics of Walking: Queer Movements through Space and Time." It's about speedrunning and walking simulators as modes of gameplay that disrupt normative expectations for how spatiality and temporality operate in video games — and about how moving too fast or too slowly creates space for alternative modes of desire and being in otherwise mainstream games. I've put the transcript up for you to read online. You can find the PDF here.
My talk at Santa Cruz was adapted from a chapter of my monograph, Playing Queer: Sexuality, Gender, and Identity in Video Games beyond Representation, which is all about the ways that we find or enact queerness in games through their design and/or how we play them. The project is in the revision phase now, so hopefully it will be out by late 2018. If you're looking for a book to check out in the meantime, remember to pick up your copy of Queer Game Studies!